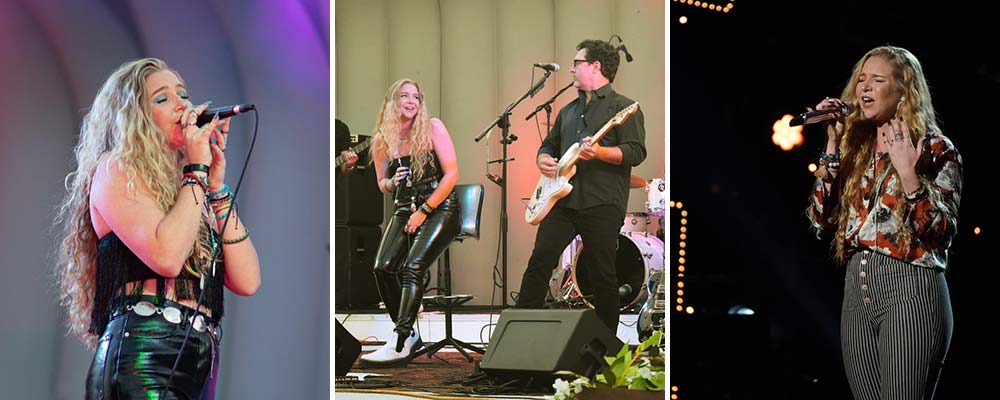 The Shannon Gibbons Band
November 11, 2022  8pm
at Gateway Playhouse

Shannon Gibbons competed on American Idol as Star Front Runner in 2020. A hometown girl growing up steps away from The Gateway Playhouse in Bellport Village, she performed Etta James' "I'd Rather Go Blind" and wowed the world. Shannon was included in the first part of Hollywood Round alongside Kay Genyse, Bilaal Avaz, and Lauren Spencer-Smith in the "Genre Challenge" category, performing Kodaline's "Everything I Want." She was invited to Hawaii by the three judges Katy Perry, Lionel Ritchie and Luke Bryan as a top 40 contestant performing Adele's "Give My Love."

Outside of her brush with fame on "Idol," Shannon was the Lead Singer of the rock group "The Om-en" from 2016 to 2020. She has performed in numerous shows at bars, restaurants, clubs, parties, and festivals, including Montauk music festival, Great South Bay music festival, Sundance Film festival in Park City, Utah. Shannon is currently a member of the band "Beat The System." Last winter she performed as a featured singer in The Gateway's Holiday Spectacular on Ice alongside Olympians Nancy Kerrigan and Polina Edmunds.

Recently she formed "The Shannon Gibbons Band" and has performed her original music and fan favorites at numerous area venues.



Content Advisory: May not be suitable for all ages. While there is no official rating system for live theatre, we encourage you to use your judgment based on age, maturity level, and subject matter.